Dr. David Carey Dixon - March 26, 2023
Like the Serpent on the Bronze Pole (John 3:11-17)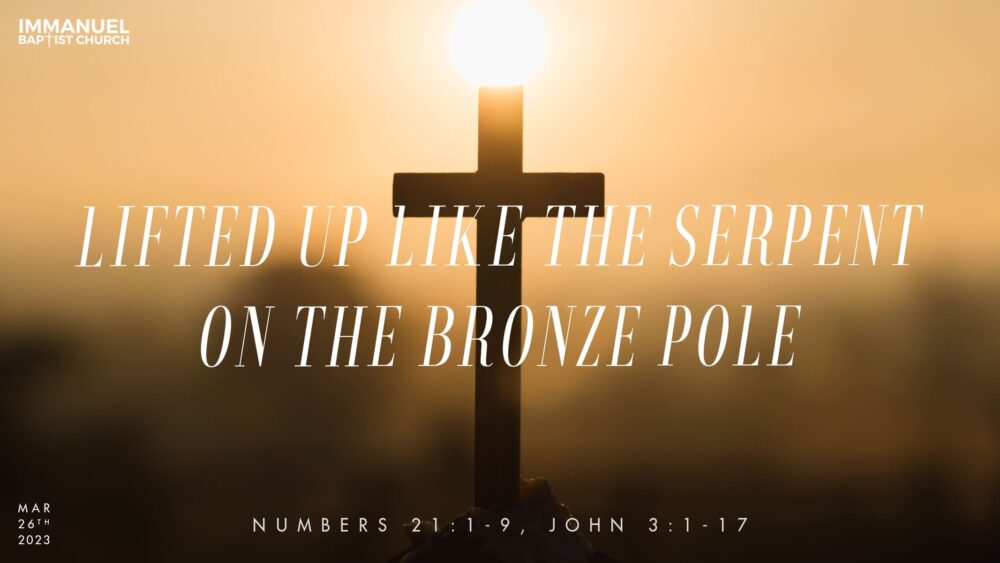 A lot of people are enamored of the new series about the life of Jesus called "The Chosen." Its very human presentation of Jesus and His disciples, with its creative script, has a lot to recommend it. One episode from the first season focused on the story of Nicodemus (Jn. 3), with its opening scene about Moses at the moment when he was making the bronze serpent to be placed on a pole. Its purpose was so that any Israelite bitten by one of the desert serpents could be healed and not die; but Moses' assistant Joshua is presented as a bit skeptical because he doesn't understand or see the reasoning behind what Moses is doing. Later the episode introduces Nicodemus, filling in the portrait with imaginative details. It's the conversation when he hears those now famous words about his need to be born again, and Nicodemus struggles to understand how he can possibly start over and make such a new beginning when he has accumulated so many years and "baggage." Later according to the biblical text of John 3, Jesus makes the comparison between the serpent that Moses lifted up in the desert (Num. 21) and His own being "lifted up" on behalf of our salvation. In the message today we want to explore just what Jesus was referring to and what the connection is between that snake on the pole and Jesus' spiritual battle at the cross.
Scripture References: John 3:11-17
Related Topics: Bronze Pole, John 3:11-17, Serpent | More Messages from Dr. David Carey Dixon | Download Audio
From Series: "Translations"
Sermons with manuscripts translations to other language.
More From "Translations"