David Carey Dixon - January 1, 2023
Learning to Wait: "How long, O Lord?" (Matthew 2:1-12, Philippians 2:12-13)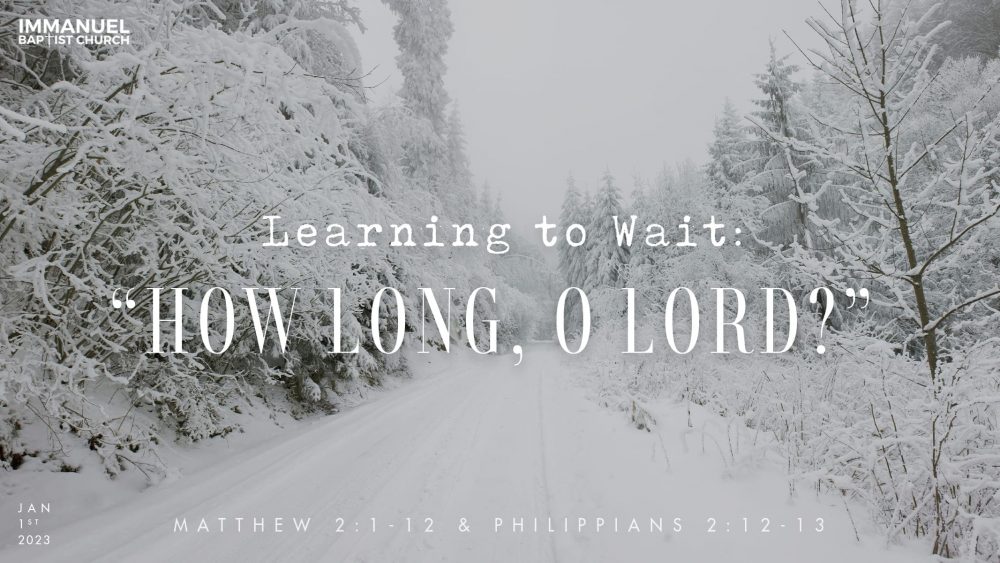 A new year in an "old world" that is far from new can bring to mind a frequent question asked by the psalmists: "How long, O Lord?" Its application to our lives is manifold – in regard to suffering, persecution, illness, separations, injustice and other trials, unanswered prayer, etc. In fact, this became a standard refrain in Israel (see Ps. 13:1-2, 35:17, 74:10, 79:5, 80:4, 90:13, 94:3; even in Jesus' experience: Mk. 9:19). Thus the ancient Jews lived awaiting the day of their Messiah and their redemption, even as the whole world was awaiting the coming of the universal King. That was the case of those Wise Men, studying the stars and longing their whole lives for this fulfillment. Little did they imagine that the old king they consulted in Jerusalem would be out for the new King's blood! As for the stream of persecution the Jews suffered under wicked king Herod, we might wonder how long we have to continue putting up with such bad rulers, even today! They certainly whet our appetite for the one King who is worthy – and in Jesus we are already invited to live under His rule! Yet when He finished His earthly ministry and returned to heaven, it's like we started the waiting all over again: now for His second coming! Developing patience in our walk with the Lord is a matter of learning to work out what He worked in (Php. 2:12-13) — so that in all we do in this new year, we may truly worship the Christ who makes all things new, in our perspective and in our lives!
Scripture References: Philippians 2:12-13, Matthew 2:1-12
Related Topics: Matthew 2:1-12, Patience, Php. 2:12-13 | More Messages from David Carey Dixon | Download Audio
From Series: "Translations"
Sermons with manuscripts translations to other language.
More From "Translations"